Performance Exhaust Upgrades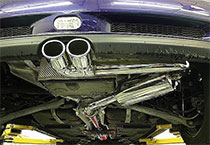 Better looks, better sound…and most of all… better performance are what you can expect with an exhaust upgrade designed and tuned for your specific application.
Don't just rely on bolt-on parts from your local auto parts store – let us design and install your custom system with quality exhaust and muffler parts from manufacturers like Magnaflow, Flowmaster, and Stillen.
---
Brembo Brake Upgrades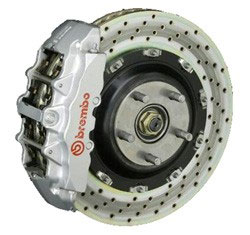 By replacing the original braking system with totally reliable Brembo products designed specifically for upgrading, you can now significantly improve your car's braking performance.
Braking systems consisting of motorsports-derived components offer superlative performance for both normal driving and demanding track day sessions.
---
Carburetor to Fuel Injection Upgrades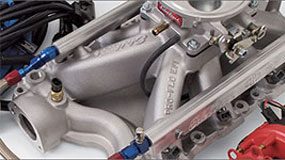 Naperville Automotive Solutions can upgrade your original carbureted engine to the all new and powerful Edelbrock Pro-Flo 2 EFI system.
The new Pro-Flo®2 offers a complete fully-sequential EFI system with an all-new, powerful electronics package to convert a carbureted engine to a modern fuel injection system.
Starting with a new "flash-programmable" engine control unit (ECU) powered by EFI Technology, a leader in advanced electronic engine management and monitoring systems, the Pro-Flo® Gen-2 allows for more tuning features, fully sequential injector firing and limitless calibrations in a compact package.
Our complete package includes: intake manifold, throttle body assembly, fuel rails, fuel injectors, all sensors, wiring harness, ecu, brackets and attaching hardware.
We are a family owned and operated automotive service and repair facility located in Naperville, IL. Our convenient centralized location allows us to service the Naperville, Aurora, Plainfield and Oswego areas.
Call Naperville Automotive Solutions at (630) 585-7560 to learn more about our Custom Performance Upgrades for your car!