Are you having transmission problems in the Naperville area?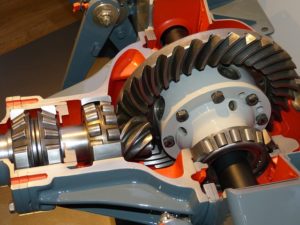 The transmission on your vehicle is one of the most important components and unfortunately can be one of the most expensive car repairs.
Naperville Automotive Solutions has built a solid reputation in the community as a transmission repair shop you can trust.
Our certified technicians have the experience, the training, and the latest diagnostic equipment to make sure you know exactly what is wrong with your vehicle and what it will cost to fix.
Do you need a transmission repair or rebuild?
When you experience problems with your transmission you want to visit an auto repair shop that you can trust. There is nothing worse than having to wonder if your vehicle really needs a rebuild or a less expensive repair. The pros at Naperville Automotive Solutions have built a strong following in the Naperville, Aurora, Plainfield areas by offering straight talk and honest pricing.
Don't take our word for it… Click here and see for yourself what people say about our Car Repair Shop!
If you think you may have a transmission problem, visit our shop in Naperville and we will gladly road test your vehicle to determine whether the problem you're experiencing is indeed transmission related or something else.
Don't wait for your transmission to fail before visiting us!
Your transmission is a very important part of your vehicle and should be maintained regularly to avoid major repairs down the road. We want you to get regular service at a low cost to avoid the big repair cost like a rebuild.
Here are the common transmission repair and transmission services we provide:
Transmission Fluid Flush and Refill
Transmission Fluid leak
Filter Replacement
Automatic transmissions
Clutch replacement
Four-wheel drive service and rebuilds
Front-wheel drive service and rebuilds
Manual transmission
Does your vehicle need a transmission rebuild or just a repair?
In the worst case scenario your vehicle may need a complete rebuild. This is a major job and should not be trusted to just anyone. We have many cases where someone went to a discount transmission rebuild shop and ended up at our shop shortly after to get the job completed right.
In many cases a transmission rebuild could have been avoided by taking some simple steps like making sure your fluid level is never low or having a flush performed when the fluid becomes discolored or burnt.
Types of vehicles we do transmission work on include:
Domestic vehicles such as Chevrolet, Buick, Ford, GMC, Chrysler, Dodge, Jeep, Lincoln, Pontiac, Cadillac, GM, Hummer, Saturn.
Foreign vehicles including Honda, Acura, Toyota, Infiniti, Nissan, Audi, BMW, Mercedes Benz, Saab, Volvo, Land Rover, Porsche, Lexus, Suzuki, KIA, Mazda, Scion, Volkswagen, Mini Cooper and Mitsubishi.
Quality Transmission Repair and Maintenance for the Naperville, Aurora and Plainfield areas.
Our loyal and satisfied customers come from all over the Naperville, Aurora and Plainfield areas. We pride ourselves in complete customer satisfaction and never do any work without your approval.
If you are having transmission problems or think you may need a maintenance check give us a call and let us do a complete inspection before you pay too much or pay for work you do not need.
Contact Naperville Automotive Solutions Today!
A full service car repair shop are conveniently located in Naperville, just minutes from Aurora and Plainfield.
Give us a call at (630) 585-7560 or fill out the form on this page and we will contact you right away!
Naperville Automotive Solutions
31W339 Schoger Drive, Suite B
Naperville, IL 60564