Quality Muffler and Exhaust System repairs you can trust!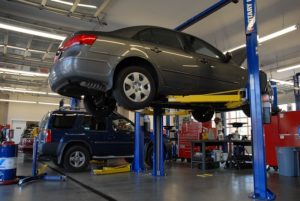 There is nothing more annoying then stepping on the gas and hearing that loud rumble coming from the bottom of your car.
When you hear an exhaust leak sound you need to take it in asap to have a complete exhaust system inspection.
In many cases it is a fixable leak, but there is also the possibility that your muffler and exhaust system may be ready for replacement.
If you live in the Naperville, Aurora, Plainfield areas don't wait for your muffler to fall off and possibly cause more damage to your car. Bring it to the muffler and exhaust system experts at Naperville Automotive Solutions.
The rough winters and rainy summers take a toll on your exhaust system and eventually something is going to wear out. Some of the areas of concern we look at when you visit us are the exhaust manifold and header, the catalytic converter, and of course the muffler.
Why should you trust your exhaust system repairs to Naperville Automotive Solutions?
The reviews from satisfied customers from around the Naperville, Aurora, and Plainfield area speak for themselves. We take pride in giving you an honest assessment of your exhaust systems status and a very fair price to make the repairs necessary or in some cases a complete replacement.
Take a look for yourself at what satisfied customers on Google are saying about us and why we have a Five Star Rating.
Naperville Automotive Solutions Google Reviews
We specialize in muffler repair, exhaust systems, and catalytic converters that are essential to fuel economy and performance of your car. You may already be aware that your exhaust system and muffler help reduce the noise of your vehicle, but they are also an important part of lowering the harmful emissions that can pollute our air.
Looking for a high performance exhaust system?
We also specialize in providing high performance exhaust systems (also known as aftermarket exhaust systems). If you are looking for more power and that cool growl when you are cruising down the road the high performance experts at Naperville Automotive Solutions will look at your vehicle and only suggest an exhaust system that fits your vehicle, using the highest quality aftermarket parts.
Come see us for an exhaust system inspection!
If you are hearing loud noises or see your exhaust system hanging don't wait until it hits the ground or gets worse. Bring it in and we will do a complete exhaust system inspection and only repair what is necessary. If you need a complete exhaust system replacement we will give a fair price and get it right the first time.
Contact Naperville Automotive Solutions Today!
We have built a solid reputation in the Naperville area by giving quality customer service and performing superior repair work to all our customers!
We are a full service car repair shop are conveniently located in Naperville, just minutes from Aurora and Plainfield.
Give us a call at (630) 585-7560 or fill out the form on this page and we will contact you right away!
Naperville Automotive Solutions
31W339 Schoger Drive, Suite B
Naperville, IL 60564