How to Avoid the High Cost of Catalytic Converter Replacement and Repair!
Some of our Naperville area customers ask us when they need to replace their catalytic converter.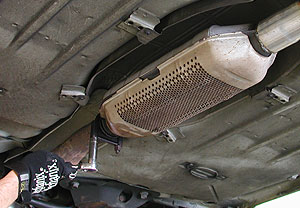 The short answer to this question is…  there is no set time period to replacing your catalytic converter. Most catalytic converters last for well over 100k miles before needing replacement.
In fact, catalytic converters have a federally mandated 8 year 80 thousand mile warranty through your vehicle manufacturer, so should your vehicle fall into that time/mileage interval, you may not need to pay for the repair or replacement out of pocket at all.
What does a Catalytic Converter replacement cost?
Unfortunately, if  your catalytic converter is not covered under warranty, repairs and replacement can be very costly. To assure you are getting the most life out of your catalytic converter you should follow a few simple steps.
. Don't ignore check engine lights. This is an indicator that something is not operating properly with your vehicle. Should the light start flashing, that is an indicator that something is malfunctioning that could potentially cause damage to your catalytic converter.
Perform routine scheduled maintenance such as tune ups and inspections. A properly running engine will make sure you get the most out of your catalytic converter.
There really is no way of telling that your catalytic converter has gone bad without proper diagnostic equipment.
One sign that your catalytic converter has gone bad is the check engine light. It is best to take it to a trained professional with the proper diagnostic equipment who can let you know if you need a new catalytic converter, or if you have something as simple as a loose gas cap causing the light to turn on.
Trust the trained professional Mechanics at Naperville Automotive Solutions for all of your catalytic converter diagnostics and repairs.
Providing Quality Auto Repair and Maintenance for the Naperville, Aurora and Plainfield areas.
Our loyal and satisfied customers come from all over the Naperville, Aurora and Plainfield areas. We pride ourselves in complete customer satisfaction and never do any work without your approval.
If you think you may need a new catalytic converter in your vehicle give us a call and let us do a complete inspection before you pay too much or pay for work you do not need.
Contact Naperville Automotive Solutions Today!
A full service car repair shop are conveniently located in Naperville, just minutes from Aurora and Plainfield. Give us a call at (630) 585-7560 or fill out the form on this page and we will contact you right away!
Naperville Automotive Solutions
31W339 Schoger Drive, Suite B
Naperville, IL 60564