When your car won't start in Naperville, what should you look at first?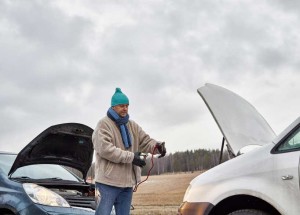 It always seems that when you are late for work, headed out on a long trip or simply are in hurry to get somewhere your car won't start!
You know, you turn the key and nothing happens or it struggles to turn over and then dies!
Alternators, starters, and batteries are 3 items under the hood of your car that play an huge role in keeping your vehicle functioning properly.
When you car won't start the big question is…
Dead Battery? Bad Alternator? Need a New Starter?
The 3 rely on one another in such a way that if one becomes defective, the other will not function properly.
These systems are so important to your vehicle's operation that when failure occurs, it usually results in having your vehicle towed into a local car repair shop.
At Naperville Automotive Solutions we make sure you get all 3 tested before any repairs or replacement is done!
There is nothing worse then not knowing what is wrong with your car when it will not start. In most cases a simple test will tell us exactly what is wrong and how much it will cost to repair or replace. Never assume you have a dead battery when it is really your alternator that is broken.
How do the battery, alternator and starter work?
These items continually work in relation with one another.  The battery supplies power to the starter and the other electronic systems in your vehicle.
In order to make sure that the battery has the necessary power to perform this function, it must be charged properly.
The alternator makes sure that when the vehicle is running and the battery is being drained down by your electronic systems, that enough power is going back into the battery so that it can maintain a charge.
As you can see, one component cannot function properly without the other.
The most common failed part out of the group is your car battery.
Automotive batteries typically have a life span of 4-6 years depending on usage.
As a battery ages, it loses some of its charging capacity.  Once that capacity gets too low, it may not be able to supply enough power to the starter in order to start the vehicle.
Other things that can cause battery failure are loose or corroded connections at your terminals can cause the battery to not charge properly or can interfere with the connection to the starter.
Complete battery failure can often be avoided by paying attention to your vehicle.  If your engine does not seem to crank over as fast as it normally does it can be an indication that your battery has become weak or is not being charged properly.
Alternator Repair or Replacement
Your vehicle's alternator has one major function; to charge the battery.  When it fails to do so, the vehicle's electronic systems will run exclusively off of your battery power.
As stated earlier, the battery cannot power all of these systems without being continually charged, so eventually the battery will lose power and the systems will shut down.
Some vehicles are equipped with a warning light that will illuminate indicating that you have an issue with the charging system.  Should you see this, it is best to have your vehicle checked out right away to prevent any further problems.
An alternator will sometimes give you an indication that it is about to fail.  If you hear a bearing squealing under your hood and the lights in your vehicle seem to be dim, it is possible that your alternator is on its way out.  The alternator can be tested for output and determined to be good or bad.
When do you need a new starter?
Your cars starter has one simple function and this is to crank the engine over so that I can start.
The starter is powered by the battery and should the starter not receive enough power from the battery it will fail to start the engine.
Unfortunately, oftentimes your starter will give no warning that it is about to fail.
If you are lucky though, a starter can exhibit some symptoms.  A weak starter will sometimes not crank the engine over on the first attempt to start the vehicle, but then crank the engine over after additional attempts.
If this is happening to your vehicle it is best to bring the vehicle into our shop and have it looked at.
When your car won't start or is having trouble turning over contact the professionals at Naperville Automotive Solutions
When you bring your vehicle to our car repair shop we will carefully test all 3 to ensure that we are only repairing or replacing what your car needs. This helps you avoid any unnecessary costs when you do not properly diagnose the problem.
What types of vehicles do we service at Naperville Automotive Solutions?
We provide electrical repairs and service including batteries, alternators, and starters on all domestic vehicles include Chevrolet, Ford, Chrysler, GMC, Dodge, Jeep, Pontiac, Cadillac, Saturn, Corvette as well as high performance vehicles.
We also service and repair most import vehicles including Volkswagen, Honda, Acura, Toyota, Infinity, Nissan, Audi, BMW, Mercedes Benz, Saab, Volvo, Land Rover, Porsche, Lexus, Scion, Mazda, Mini Cooper, Mitsubishi, Kia, and Suzuki.
You can expect professional, honest and quality Car Repair and maintenance throughout the Naperville, Aurora and Plainfield areas.
Our loyal and satisfied customers come from all over the Naperville, Aurora and Plainfield IL areas because we focus on complete customer satisfaction and never do any repair work without first informing you of all the work needed and ten getting your approval.
Don't Ignore the Warning Signs From Your Vehicle!
If one of your warning lights comes on, or your car is struggling to start, don't wait until you are stuck somewhere!
In many cases you can avoid huge towing costs by just getting a simple test on your electrical components.
Contact Naperville Automotive Solutions Today and schedule an inspection!
We are a full service car repair shop conveniently located in Naperville IL, just minutes from Aurora and Plainfield.
Give us a call at (630) 585-7560 or fill out the convenient form on this page and we will contact you right away!
Naperville Automotive Solutions
31W339 Schoger Drive, Suite B
Naperville, IL 60564