We Provide Honest and Affordable AC & Heater Repair Services to Automobile Owners in the Naperville IL Area!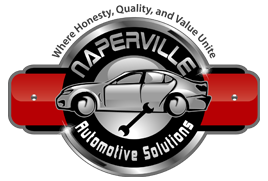 If you live in the Naperville area you already know that the summers here get hot and humid.
Unfortunately, your car's air conditioning always seems to malfunction at the worst time of the year.
At Naperville Automotive Solutions our trained auto mechanics specialize in AC repair and always diagnose your problem to try and save you money.
What causes your vehicle's AC to stop working or not work at peak performance?
A poor performing air conditioner is not always a major repair and in many cases a simple freon charge will solve the problem. It is important to realize that there are several major parts as well as hoses that can cause your AC to malfunction .
The top problems we encounter when doing an air conditioning system inspection:
Low Freon – most common problem and it will cause your compressor to shut down to avoid further damage.
AC Compressor – the most common failure reason is leaky seals and inadequate lubrication. We recommend you periodically turn on your ac so the seals do not dry up and stay lubricated.
AC Condenser – The most common cause is normal wear and tear or blockage from a failed compressor.
AC Evaporator – A failing evaporator can cause the A/C to stop cooling. If the evaporator leaks, there may be an odd odor when using the heater or A/C
AC Drier – Receiver driers rarely fail on their own. When a failure does occur, however, it is usually due either to clogging from debris inside the AC system like from a failing or failed compressor that can be easily replaced at a relatively affordable cost to you.
Naperville Automotive Solutions will diagnose your air conditioning – heater system problems and give you the best solutions at as low a cost possible.
In many cases the cause of a system failure can be a minor issue and our highly trained professionals always try to save you money. In the cases where major repair work is needed we contact you first and describe the work to be done and ac repair cost up front.
Why Should You Choose Naperville Automotive Solutions for Your Vehicles Air Conditioning and Heater Repairs and preventive maintenance?
Our highly trained mechanics provide air conditioning and heater repairs and replacements on domestic automobiles including Chevrolet, Ford, Chrysler, GMC, Dodge, Jeep, Pontiac, Cadillac, Saturn, Corvette as well as high performance vehicles.
We also service most import vehicles including Volkswagen, Honda, Acura, Toyota, Infinity, Nissan, Audi, BMW, Mercedes Benz, Saab, Volvo, Land Rover, Porsche, Lexus, Scion, Mazda, Mini Cooper, Mitsubishi, Kia, and Suzuki.
Naperville Automotive Solutions is a family owned and operated automotive service and repair shop located in Naperville, IL.
Our convenient centralized location allows us to service the Naperville, Aurora, Plainfield and Oswego areas.
Naperville Automotive Solutions
31W339 Schoger Drive, Suite B
Naperville, IL 60564
Call us at (630) 585-7560