Do you know what a blown head gasket repair cost in the Naperville Illinois area should be?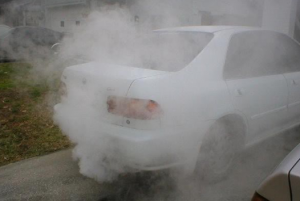 Do You need a head gasket replacement in the Naperville area and want to avoid getting ripped off?
A blown head gasket is a serious problem that can happen because of years of wear and tear or owner abuse. The problem is, you can end up paying too much for the repair if you don't understand what a blown head gasket is, and how the typical head gasket repair in Naperville repair should be handled.
First of all, is it a blown head gasket? Is your car or truck currently suffering from some of the following symptoms:
White smoke coming out of your tailpipe,
Engine running rough or misfiring
Engine overheating,
Milky substance in your oil
Oil substance in your coolant.
Those are all common symptoms of a blown head gasket.
Why call Naperville Automotive Solutions for head gasket repair costs in Naperville?
At Naperville Automotive Solutions we get many customers from the Naperville area that call in looking for head gasket repair estimates with these types of issues. The first step is to confirm that the symptoms your vehicle is experiencing is actually caused by a blown head gasket. A head gasket repair can be pretty costly so you want to be 100% sure that it is indeed a blown head gasket. Once confirmed, the head gasket repair process in Naperville is pretty straight forward.
What is the typical Head Gasket Repair Cost in Naperville?
Although prices vary depending on the specific vehicle, reputable auto repair shops should be able to provide you with an accurate estimate to repair your blown head gasket and get you back on the road.
Blown Head gasket repair costs can range anywhere between $1,000-$3,000 depending on the vehicle and the specific parts that need to be replaced. In most cases, the repair process is pretty straight forward. Included in most head gasket repairs would be a head gasket kit, coolant/antifreeze, thermostat, coolant/antifreeze flush and an oil change along with the labor for the auto technician to complete the head gasket repairs. You will also likely see a charge for machining the cylinder head.
Why would some Head Gasket Repairs in Naperville Cost More?
If your vehicle does not fall into the "normal" head gasket replacement category, some additional charges may apply. On some overhead cam engines, a head gasket replacement is the perfect time to replace a worn timing belt. Since the timing belt needs to be removed from the engine to remove the cylinder head on these types of vehicles, the additional labor time would be much less than if you had your timing belt replaced on a separate occasion.
Another additional head gasket repair cost would be replacement of the spark plugs if damaged by the blown head gasket. The most costly additional item would be replacement of the cylinder head itself, should it have a crack that could not be repaired by the machine shop. Unfortunately, this is not something that could be determined prior to removing the head from the engine.
How long does a typical Head Gasket Replacement in Naperville take?
If you need a head gasket replacement you should plan on being without your vehicle for around 3-4 days. A best case time scenario would be removal of the head and sent out to the machine shop the first day. On the second day the machining of the head would be completed and it would be returned to the repair facility. On the third day the installation of the head would be completed.
Choose a Naperville Car Repair Shop With Head Gasket Replacement Experience!
Naperville Automotive Solutions is a car repair shop in Naperville IL with extensive experience repairing vehicles with blown head gaskets in the Naperville area, and is currently offering you 10% off any head gasket repair. Please see our Head Gasket Repair Coupon Naperville page for specific details.
If you have any head gasket repair questions please do not hesitate to call Naperville Automotive Solutions at 630-585-7560. We will be happy to answer and questions and offer a free head gasket repair estimate to all Naperville area residents.